Introduction for Providers

Here are a few tips to help you implement your Simple Hormones subscription:
Please allow about 24 hours for your account to be set up. I'll send you an email once your patient landing page and program materials are ready.
Once you've gotten confirmation that your account is ready, feel free to direct your patients to your custom program link. That link will be sent to you in the email, but it will follow this format: http://simplehormones.com/ortega (with your last name at the end, of course). That link allows patients to get access to the program material at no charge to them.
When they click that link, they'll be sent to a customized landing page for your patients that looks something like this: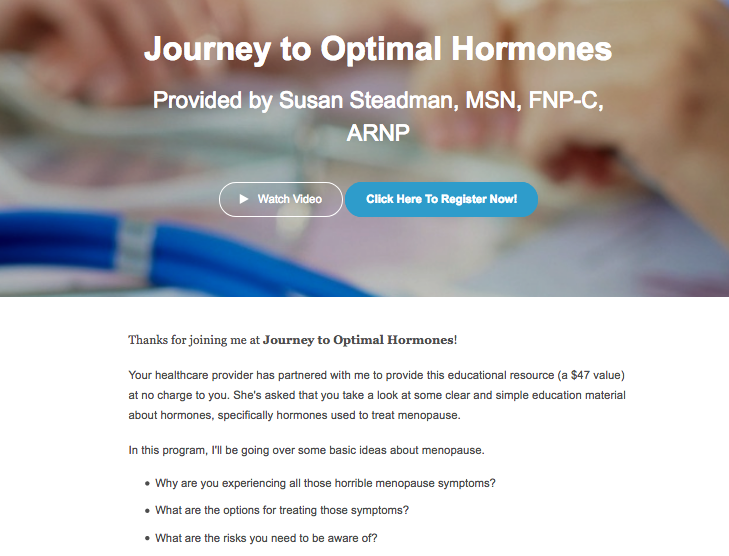 Getting patients started on the program is as easy as 1-2-3!
There's a video on the page that walks them through the same information that's written below.
Patients can click one of the blue buttons on the landing page that says "Click Here To Register Now!"
They'll be taken to a page that asks them to enter their
first name
email address
choose a password (and confirm it)
After that's done, they just click the "Sign Up" button.
The page I'm talking about looks like this: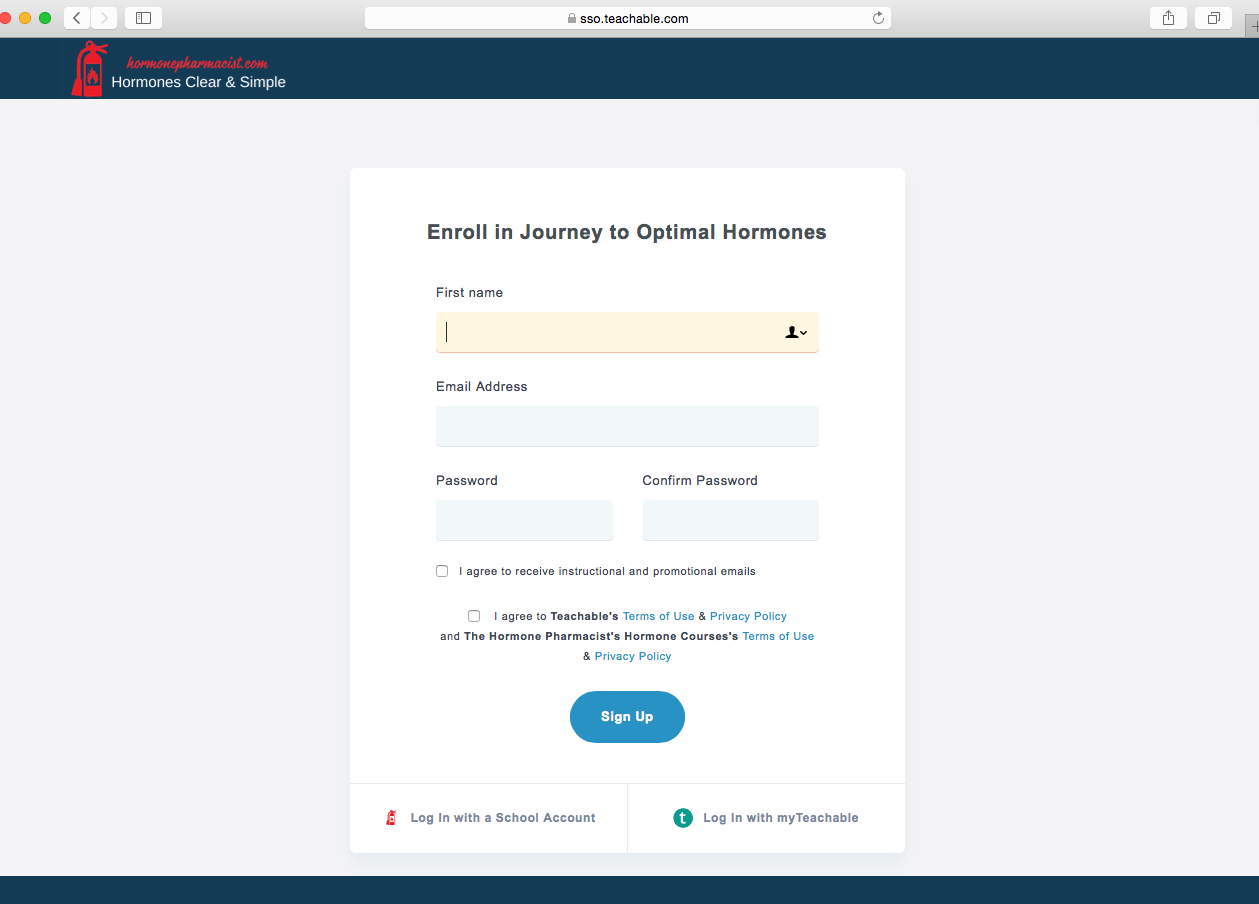 Once they've taken those 3 steps, they'll see the program, where they can start watching the videos. The front page will look something like this: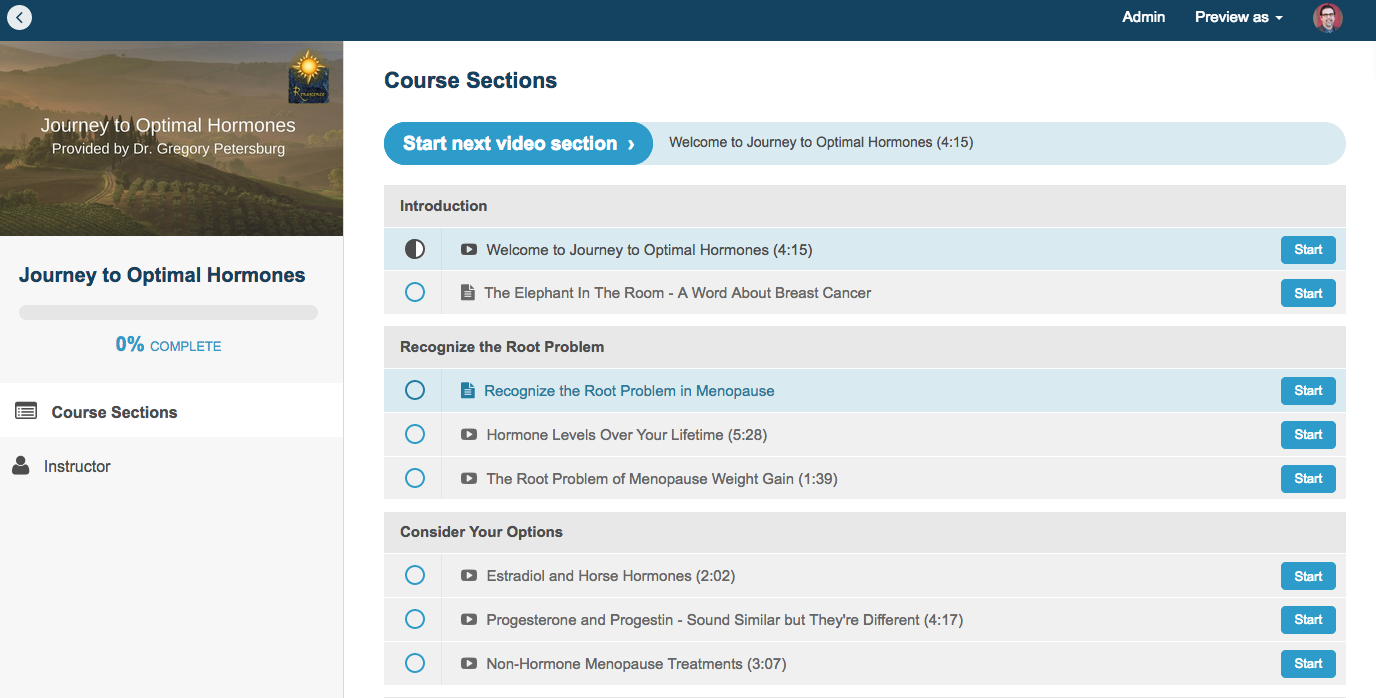 There's about an hour's worth of material in the whole program. They can watch it all at one sitting or just one short video at a time. That's completely up to them. They just click the "Start" button to the right of the first video and it should open a page that allows them to watch it. That page looks like this: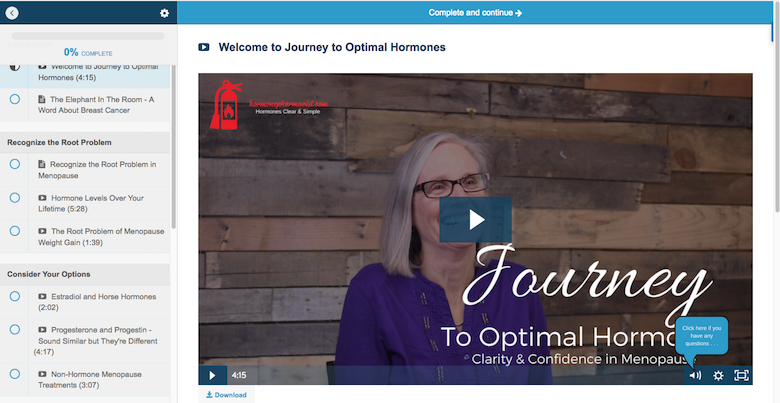 If you or your patients have any questions about using the program, I'm here to help.
There's a little blue "Chat Icon" on the lower right side of page (right over there >>>) that says "Click here if you have any questions." I'm available most weekdays to answer them for you. Just click on that icon and a chat window will pop up. If I'm not available to chat, you'll see an "Email me" message.
Although I'm happy to answer general questions about hormones and the program itself, I've included in the "Frequently Asked Questions" a statement that says I'll be referring patient-specific health questions back to you as their healthcare provider.